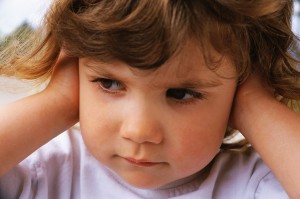 Mike, a five-year-old Kindergartener, is a human tornado, dashing around and destroying everything in his path. Reckless and impulsive, Mike often runs into the street with oncoming cars, no matter how many times his parents explained the danger or scolded him.
Eight-year-old Robert is a very outgoing child, and he has not trouble communicating his thoughts and needs to members of his immediate family. However, he refuses to speak to his teachers, classmates, friends, or grandparents, and he would not speak to even his immediate family members in any open, public places. In social settings outside his home, such as at restaurants, aftercare, or parks, Robert would not speak at all and has his family members (i.e., siblings or parents) speak for him.
Seven-year-old Lisa's favorite part of the day is story time. She loves it when her parents read to her, and she has no trouble remembering what she hears. But Lisa has a problem. She cannot read for herself. In fact, any task that requires visual skill frustrates her.
What is wrong with Mike, Robert, and Lisa? Are they lazy, stubborn, or perhaps slow on the uptake? Not at all. In fact, each of these children is of normal or above-average intelligence. Yet, each one is also hampered by certain developmental issues. Mike's inattention, hyperactivity, and impulsivity are features of Attention Deficit and Hyperactive Disorder; Robert's refusal to speak in any public places is a characteristic of Selective Mutism, and Lisa suffers from Dyslexia, a term that is applied to a number of reading problems.
These are just three examples of developmental challenges. There are many more, and some experts estimate that altogether they affect at least 10 percent of the children in the United States alone. So, what are parents to do when their child is developmentally challenged? Psychological testing is an ultimate remedy.
What is psychological testing?
Psychological testing is an ultimate resource that helps to identify your child's areas of concern as well as great potential. Typically, it consists of a several tests that are chosen for a particular child depending on the presenting problem in order to help parents understand their child's problem and provide necessary help.
When should a child be tested?
If your child is not mastering school tasks despite his or her greatest effort, do not delay in getting help.  The sooner you get your child evaluated, the more of your son or daughter's potential may be reached. Although testing cannot pinpoint the precise cause of the developmental issue, it can provide information necessary to make your child's life more satisfying and successful.
Irina Fredericks, Ph.D., LMHC,  specializes in evidence-based assessment and counseling services for children, adolescents, and adults with Anxiety and Phobia problems. She offers her services in both Russian and English languages. The services are provided fully ONLINE via Skype and/or in person at Delta Psychological Group, a private practice located in Aventura, Florida. For more information or to contact Dr. Fredericks, please click here.